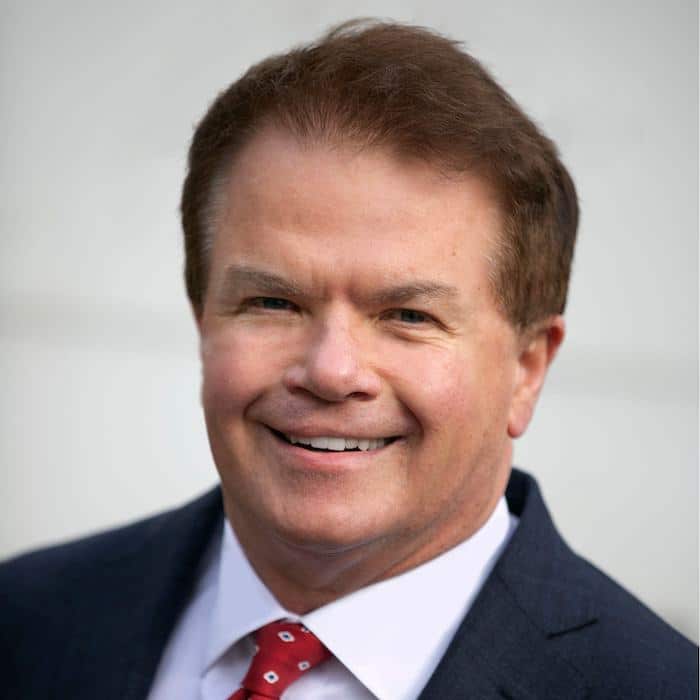 Education
---
M.B.A. (Magna Cum Laude) University of South Carolina, 1985

Received MBA Outstanding Student Award

B.S. in Economics (Cum Laude) College of Charleston, South Carolina, 1982
Professional
---
Chairman/CEO of Eventive Sports, a Birmingham, Alabama-based sports event management company.

Formed with partner Ronald Bruno in 1995, Eventive Sports employs more than 90 teammates in 12 offices throughout North America. The company manages a wide variety of major sporting events.
Eventive Sports is one of the country's largest event management companies dedicated exclusively to managing sporting events.
Event Experience
---
Golf
Since 1992, most noted for the management of the Birmingham area Champions Tour event which began as the Bruno's Memorial Classic at Greystone and is now known as the Regions Tradition
20+ USGA National Championships including the U.S. Women's Open, U.S. Senior Open, and Walker Cup
50+ Champions Tour events (formerly Senior Tour)
20+ LPGA golf tournaments
15+ Web.com Tour tournaments
Motorsports
Exclusive promoter for world-renowned Barber Motorsports Park – Birmingham, AL
Children's of Alabama Indy Grand Prix – the only INDYCAR event in Deep South
MotoAmerica
Barber Historics- Vintage automobile festival
Barber Vintage Motorcycle Festival
Baseball
Southeastern Conference Baseball Tournament (since 1998) Regions Park -Hoover, AL
Football
Gameday Operations for the University of Alabama Football, Gymnastics, and Basketball programs
Magic City Classic, the largest HBCU college football game in the country- Legion Field; Birmingham, AL
2020 Health Testing Facilities
Operations and onsite logistics for GuideSafe™ Entry Testing, providing free COVID-19 testing for all four-year and two-year students at Alabama's colleges and universities.
Additional Events
CrossFit Games World Championship, 2011– present- Home Depot Center, Los Angeles, CA
National Senior Games, 2017- Birmingham, AL
Other Notable Event Experience
CEO for Birmingham Olympic Soccer Venue, 1996 – Legion Field, Birmingham, AL
World Heavyweight Championship Boxing Match- First ever Title fight in Alabama history-Bartow Arena- Birmingham, AL
AVP Pro Beach Volleyball Tour, 2006 – Hoover, Al
SWAC Football Championship,1999-2005 — Legion Field, Birmingham, AL
NCAA 1st & 2nd Round Basketball Tournament Games, 2000, 2003, 2008- Birmingham, AL
United States Olympic Men's Marathon Trials, 2004-Birmingham, AL
Southeastern Gymnastics Championship, 1999, 2001,2004, 2010, 2014- Birmingham, AL
NCAA Men's Soccer Final Four National Championship, 2011-2012 – Hoover, AL
NCAA Women's National Gymnastics Championship, 2014- Birmingham, AL
Brett Favre Charity annual softball game, Green Bay Packers, 2000-2007 -Green Bay, WI
Professional Honors
---
2020 – Top 40 Under 40 All-Stars: The Ultimate Top 40 Class by the Birmingham Business Journal
2016 – 205 Influential Executives by the Metro Birmingham Business
2016 – Recognized as one of Birmingham's Most Influential Leaders by the Birmingham Business Journal
2015 – Client Spotlight by the Birmingham Business Journal
2014 – Recognized as one of Birmingham's Most Influential Leaders by the Birmingham Business Journal
2013 – Recognized as one of Birmingham's Most Influential Leaders by the Birmingham Business Journal
2011 – Inducted into Birmingham Golf Association Hall of Fame
2010 – Top 40 Under 40 Alumni Hall of Fame; Birmingham Business Journal
2005 – Community Leadership Award; City of Leeds
2004 – Men of Substance and Style; Birmingham Magazine
2003 – Alabama Man of the Year; March of Dimes
1999 – Top Ten Up and Coming Leaders for Birmingham Region; Birmingham News
1994-1999 – Top Twelve Most Influential Sports Leaders in Alabama; Birmingham Post-Herald
1999 – Vestavia Hills Rotary Club Celebrity Roast Honoree
1998 – Outstanding Community Sales & Marketing Award; Birmingham Sales and Marketing Execs
1997 – Best in Business Rising Star Award; Birmingham Business Journal
1996 – Alabama Marketer of the Year; America Marketing Association
1996 – Birmingham Man of the Year; Birmingham Business Journal
1995-1996 – Birmingham's Top 10 Most Influential People; Birmingham Business Journal
1995 – Birmingham Person of the Year; Birmingham Magazine
1995 – Communicator of the Year; International Association of Business Communicators
1995 – Top 40 Under 40; Birmingham Business Journal
Activities
---
United Way, Alexis de Tocqueville Society Member
Birmingham Business Alliance, Board of Directors
Annual American Heart Association Ball Gala, Emcee
Competitive long distance runner; competed in both New York City and Boston Marathons
Centennial Olympic Games, Atlanta 1996, Torchbearer
Personal
---
Born December 22, 1959, Anderson, SC,
Two children–daughter, Ella Grace, 10/22/03; son, Marshall 9/6/05
Member, Mountain Brook Community Church