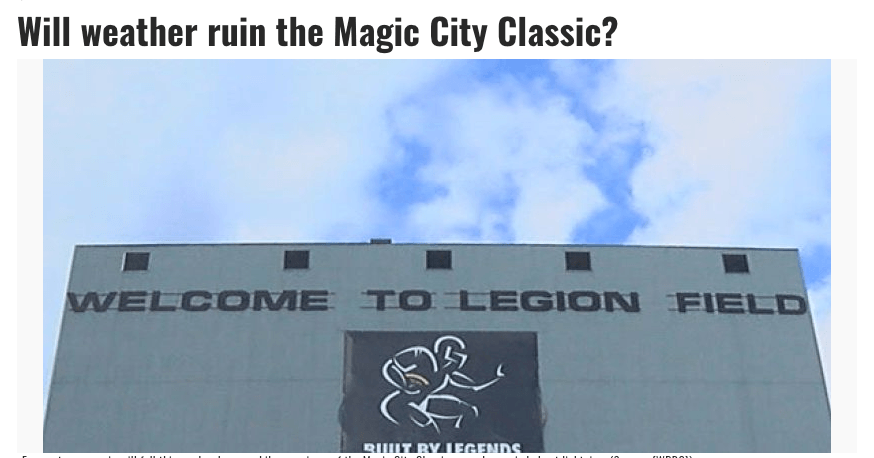 BIRMINGHAM, Ala. (WBRC) – Many are looking forward to the 78th Magic City Classic this weekend, but will rain ruin the fun?
It's the largest HBCU football classic in the nation, drawing crowds in the tens of thousands. And even with a 60% chance of rain looming over the festivities, organizers say they're keeping a close eye on everything.
"I sense this could be the most excitement we've had for Magic City Classic in a long time," says Gene Hallman with Eventive Sports.
And there's a lot to be excited about. The bands, the game, not to mention the tailgating. And this year, the celebrities!
"But this year with Shaquille O'Neal being the ambassador and then 2 Chainz performing right after the game, that entertainment value is taking this classic to a whole new level," says Hallman.
Hallman says he hopes the rain won't play a starring role. "We're talking to the weather meteorologists on a frequent basis, but the rain could be intermittent."
He says the only thing that could seriously postpone things would be lightning. "And we'll be monitoring that closely and if lightning gets close to either these events, the parade or the game, then we'll have delays accordingly. But right now everything's on go!" said Hallman.
The good news is we're not expecting much lightning this weekend, but you never know how the rain will affect the crowds. They are expecting between 60-65,000 people, with tickets sold in over 30 states.
"Alums from all over the country are reuniting here in Birmingham and filling up our hotels and our restaurants. Creates an economic impact of more than $20 million for the metro area," said Hallman.
Expecting a large turnout for something that has grown to be more than just a football game.
Umbrellas are not allowed in Legion Field, but folks can bring ponchos. Be sure to download the WBRC Weather app to keep up with the forecast. Kickoff is at 2:30 p.m. Saturday.
Copyright 2019 WBRC. All rights reserved.